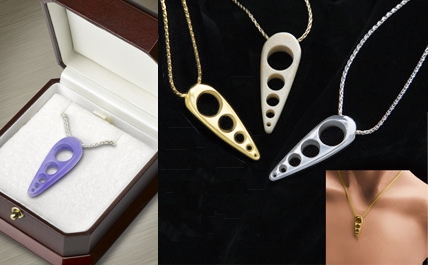 The Totem Art Pendant is all about paying attention to what is important. . . to you.
The unique design employs open areas to represent values. They have been left open so they can be filled with your own personal values. The larger the hole, the greater the value. So. . . what are the five most important things in your life? And in what order?
A personal set of values, in priority order, might be Health, Family, Home, Career and Friends. Some might put Faith first, for others it might be Country, Humanity or Love. As you travel through a busy life. The Totem is a daily reminder of what is important. . . to you personally.
The piece was refined over a 15 year period. It is a novel design that offers personal value, is visually attractive and provides an opportunity for thought provking conversation. The original thoughts behind the totem were based on a search for the priority of universal values, such as; Truth, Time, God, Luck, etc. another thought provoking subject.
The Totem Art Pendant is produced in limited quantities. In an effort to provide some degree of indiviuality, variations are being crafted in different materials. All are made to our very high quality standards. Custom pieces are also possible. Each Totem comes with a certificate of authenticity.